Teddyfield 2002
A trip to Ireland by Jabiru with a teddy bear as co-pilot for an international microlight fly-in near Dublin.
What a fantastic trip! 'Teddyfield' 2002 was a real adventure for microlights from all over the UK and Ireland. The idea behind it came from a passing remark on the BMAA microlight 'e-group' bulletin board and grew into Ireland's first ever microlight fly-in.
The venue was Clonbullogue airfield, the home of the Irish Parachute Club, which is about 35 miles west of Dublin. The name 'Teddyfield' arose from another e-group suggestion. It involved raising money for a Dublin children's hospital by having everybody bring a teddy bear with them across the Irish Sea to be raffled off to raise money.
The date was the May Bank Holiday weekend; a significant flying anniversary for me since it was exactly a year since my first ever flight in a microlight - an air experience flight in a Shadow with John Tindall. What better way to mark that occasion than to set off on a bit of an adventure?
The planning for the event evolved online over several months, and as the date drew nearer the preparations got more serious. I put in what was probably the club's only order so far for the Irish 1:500,000 chart and Pooley's guide and spent hours playing with flight-planning software on my computer planning possible routes.
Of course, as with all flying in the UK, one always knows that there's a good chance that the weather will put a stop to the best laid plans, but it was the kind of trip which it was fun to daydream about anyway. Since this was an international journey there was extra paperwork to be done first. Not only did a flight plan have to be prepared, but I had to apply to the Irish Aviation Authority to get permission to fly a UK-registered microlight in their airspace. I also had to inform both Customs and Special Branch of the flight.
With a week to go the forecast was bleak and things were not looking too promising, but as the days passed the Met Office started to get more optimistic and by Thursday it was clear that the trip was on. I had all my paperwork done and I had bought a teddy. Everything was ready to go.
Saturday dawned fine with scattered cloud at about 3,000ft which was good enough for me. I checked the weather and NOTAMs online, entered the winds into my calculations, and set off to Redhill.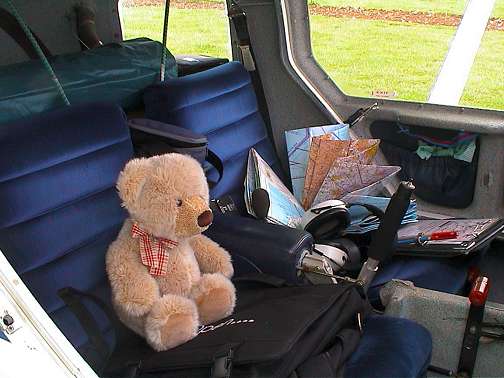 I checked the aircraft and then loaded it up with the unusual cargo of tent, sleeping bag and teddy and programmed my route into the GPS. My first stop was to be Haverfordwest on the far south-western tip of Wales to rendezvous with two other aircraft also heading to Ireland.
By 12:30 I was all set and called up the tower for taxi clearance. Runway 01 was in use and the airfield was quiet, so it didn't take long until I was opening the throttle and setting off for Wales.
I switched to Farnborough as I passed Reigate and routed out on the familiar stretch past Guildford to Farnham, then up through the Odiham MATZ to Hook. From there it was a straight line up past the huge disused runway at Greenham Common outside Newbury and on to pass just to the north of Swindon. At that point I was talking to Brize Radar for clearance through their MATZ followed by a quick change to Kemble to let them know I'd be passing overhead. They cleared me through at 2,500ft over the field which gave me a good view of some of the historic jets they have on the ground there.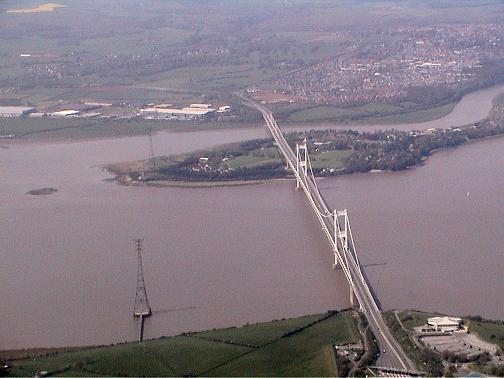 After Kemble I turned southwest and headed for the old Severn Bridge, passing between the restricted areas around Prince Charles' home at Highgrove on one side and two power stations on the Severn on the other. After getting great views of both bridges I was in Wales. I'd decided on a southerly route since the cloud wasn't high enough to go straight over the mountains, so I headed down towards Cardiff. It was quite a busy day for them since the FA Cup final was being played and there were obviously quite a few people flying in, including the occasional helicopter from Redhill.
There were some great views of the southern hills as I passed, including a big windfarm at one point and a castle or two as well.
Having changed from Cardiff to Swansea it wasn't long until it was time to prepare for arrival at Haverfordwest. After making sure the cabin crew were seated and that my seat was in the fully upright position with tray table stowed, I called up and was given a nice straightforward base leg join since I was the only aircraft around at the time.
Haverfordwest has a lovely big concrete runway which was impossible to miss, so I was soon down and taxying around to the fuel pumps. The trip from Redhill had taken about two and a quarter hours flying time which wasn't too bad.
I had arranged to meet two other aircraft at Haverfordwest: Steve Slade in his well-known Rans with his brother Brian, and Merv Middleton and Jeremy Hucker in Merv's very smart all-metal Eurostar. Steve and Brian were already there when I arrived and Merv and Jeremy arrived not long afterwards.
The weather had got worse and it had started to rain, but some Czech pilots who had just come in from Ireland said that the weather was fine over the sea so we continued with our preparations. We agreed our route and discussed the order we'd go in. Since we were flying in a formation it made sense for one aircraft to handle all the RT. Steve got that job since he would be leading the flight as the Rans was the slowest aircraft and so would set the pace.
We activated the flight plan (which covered all three aircraft) and then taxied out in the rain, backtracking along the runway through the puddles. When the takeoff clearance came we rolled down the runway one after the other in a staggered line, taking off in our little formation before climbing out towards the coast - just like a group of Spitfires, though perhaps not quite so fast and certainly less well armed!
Within a few minutes we were over St. David's Head with nothing between us and Wexford but the Irish Sea. On cue, the clouds were left behind over the coast and we climbed onwards into a gloriously blue sky.
The Rans set a pace that was quite relaxed for the Jabiru as we continued to climb up to 7,500ft for the crossing. We decided on that height to maximise our gliding range while staying clear of some airways and the Shannon CTA on the Irish side, but it was a good choice anyway since the air was completely smooth and we had a good horizon as well as a great view of the ships passing nearly a mile-and-a-half below us. The air seemed crystal clear (perhaps because we weren't far from Waterford) and we could see the Irish coast so clearly from 35 miles out that it took the GPS to convince us that we were really that far away.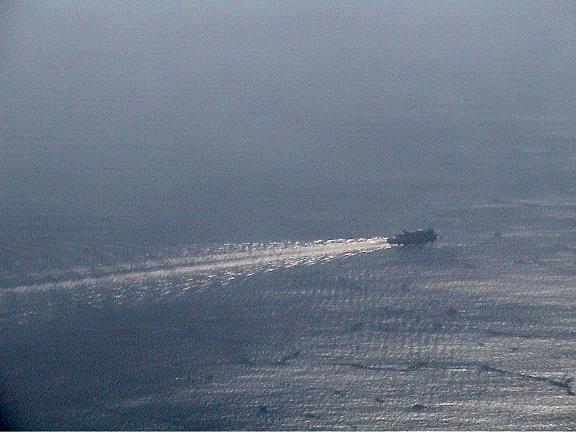 It was a fabulous flight over the sea - one of those times when all hours of waiting for the weather to lift at Redhill are repaid many times over. The Jabiru was running perfectly, just ticking over at 70kts and 2,100 revs, the sky was blue and I was in good company. It really was a flight to raise the spirits.
We were able to talk to each other on the microlight common frequency as we flew, so we organised some air-to-air photography amongst ourselves. The conditions were perfect, with a fine blue backdrop and lovely smooth air so you could hold the camera steady. Brian took a fabulous shot of the Jabiru as I flew alongside the Rans and we swapped places in our little formation to take shots of each other.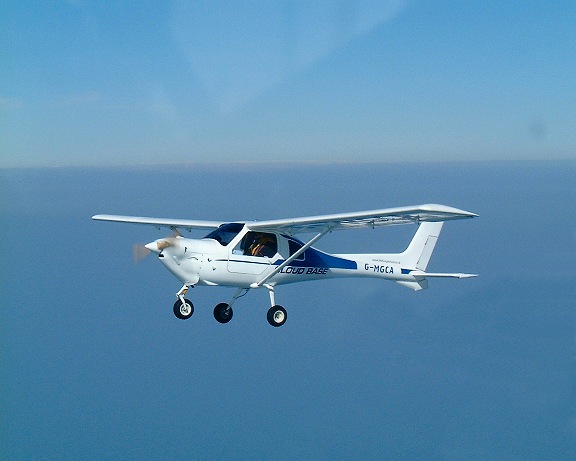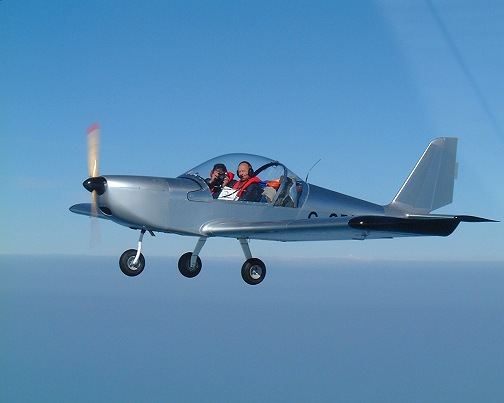 After about half an hour we had come within gliding range of the Irish coast and started a gradual descent so that we could get a better view of the scenery. We coasted in over Wexford harbour and turned north on a direct heading for Clonbullogue, following the rivers Slaney then Barrow as they wound their way through the typically lush green Irish countryside. We had great views from a couple of thousand feet up, and the gentle cruising speed made it seem all the more tranquil.
About and hour and a half after we'd left rain-soaked Haverfordwest it was time to call up sunny Clonbullogue. We immediately got a flavour of the relaxed atmosphere there as they cleared us in for base-leg approaches to runway 27. Steve called them back - "Which direction is your circuit?" to which the answer was "Oh, whichever direction you'd like. You suit yourselves." We chose left, and were soon all down on the Irish grass of Clonbullogue's runway.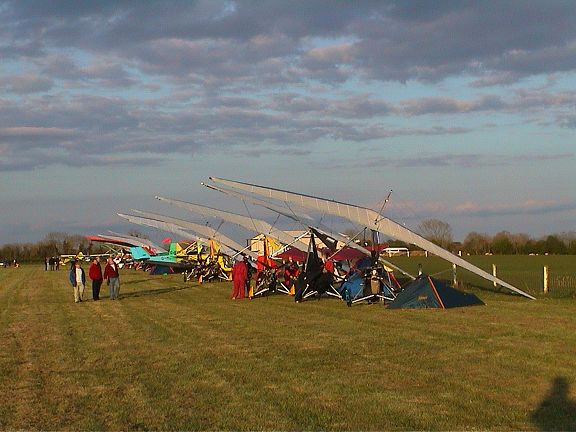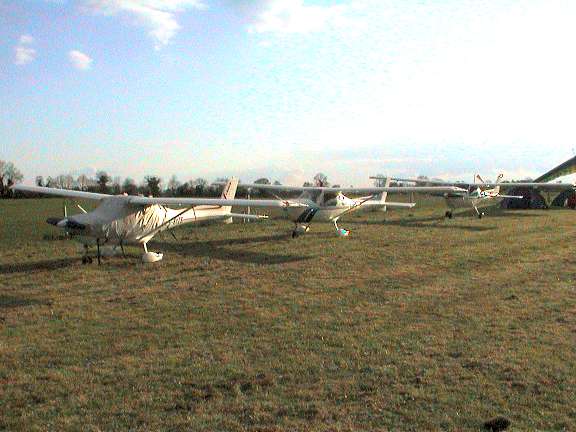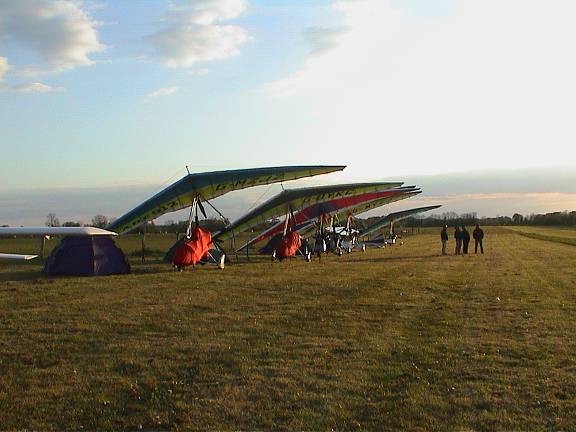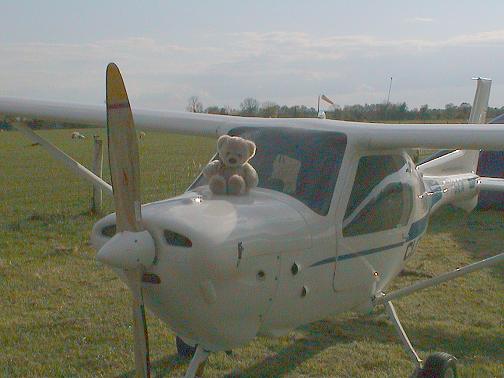 We'd arrived just after 6pm on Saturday and there were already more than 40 mainly UK-registered microlights there. The majority were flexwings, some of which had taken even longer routes across the sea than we had. There were quite a few 3-axis machines too, and I parked our Jabiru immediately behind two others which made a nice little line-up.
It was a fine evening and there was lots to do in booking in, closing the flight plans, and having a look around to see who else was there. It was a great chance to meet people who I'd previously only known through the BMAA bulletin board and also to get a close look at all sorts of different machines.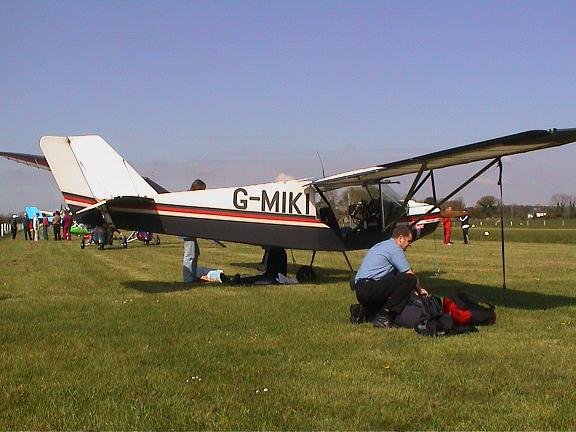 The parachute club's Islander was kept constantly busy taking jumpers up. A few minutes later each new load would come spiralling down from above, whooping as they approached the landing zone in the sheep field next to the runway. The sheep must have been well used to it since they took no notice at all.
The parachute club had laid on a barbeque and a bar for the evening, though to the distress of a lot of thirsty pilots that couldn't start until all the parachute jumping had finished. They like to use all the daylight hours out there, so it wasn't until after 10pm that I had the first Guinness in my hand, but at least that gave me just enough time to work out how to put up my newly-purchased tent!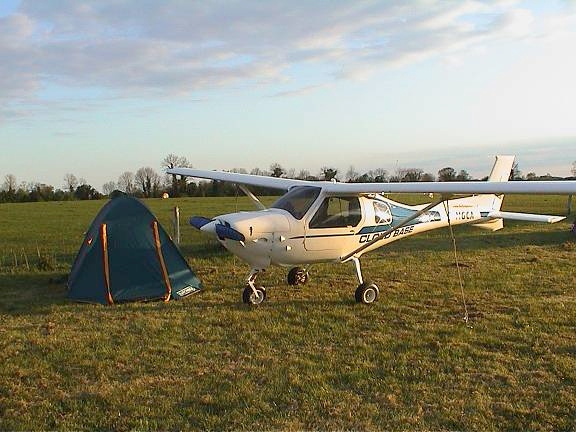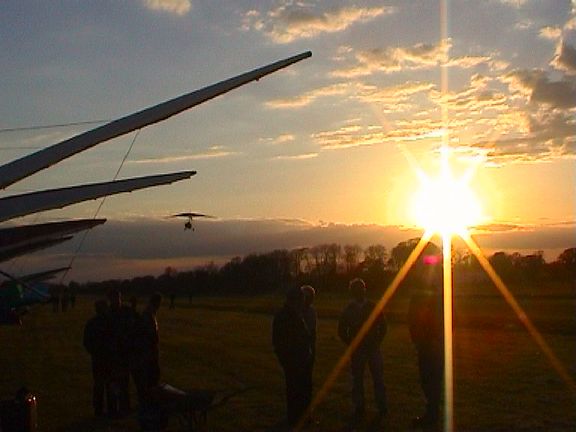 We all had a great evening sitting around talking about our trips across, comparing the merits of Jabiru and 912 engines and enjoying the barbeque and the Guinness. I returned to my tent at about 1am and had a few hours of sleep until someone roared down the runway at 7am for an early morning flight. Since that was about ten yards away it acted as a pretty effective alarm call.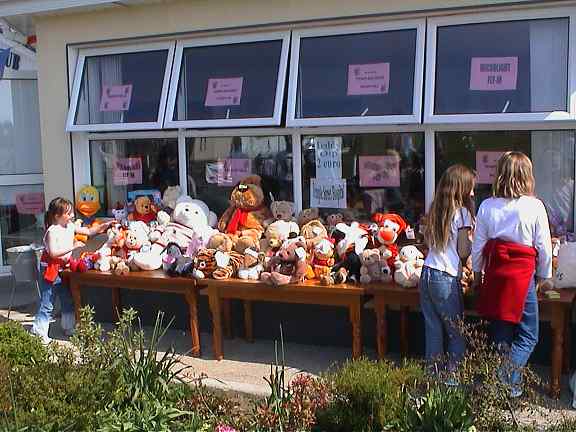 The parachute club had laid on a full Irish breakfast so most people headed over there to start the day. I spent the morning chatting to people (the Jabirus created quite a bit of interest) and watching some more of the jumping. We decided to set off back at midday, so we did all our route planning and filed another flight plan to cover all three of us. We decided to go back on a different route, flying past Dublin to the south and then east towards Caernarfon where we'd stop for customs, Special Branch and fuel. Since we had originally said we'd be coming back to Haverfordwest we rang them to let them know about the new plan and also called Special Branch directly to do the same.
With all that done, we finally took off just after midday, exchanging warm goodbyes over the air with the Clonbullogue controller as we flew out. Our route took us at low level over the Wicklow Mountains to the south of Dublin which were very scenic. As we coasted out and began to climb we could see Dublin Bay and the city a few miles to the north.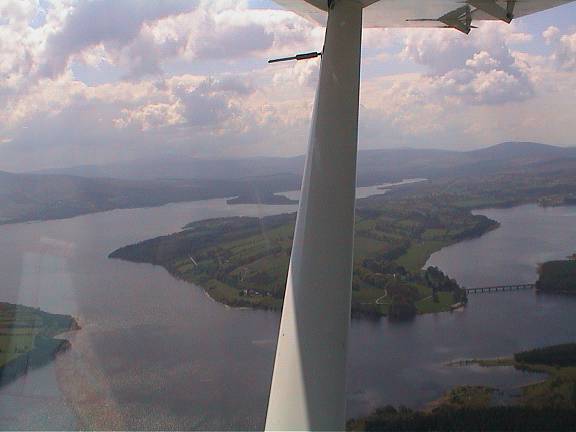 This time we climbed to 8,000ft to get a good horizon and again flew in formation at about 70kts, watching the GPS slowly counting down the miles to the Welsh coast. This crossing was a little longer than the previous day's, but again the aircraft didn't miss a beat and the air was so smooth that you hardly needed to touch the controls for minutes on end. Once again we could see the Welsh mountains from miles out and they seemed much closer than they were.
After about 45 minutes over the sea we made landfall and flew up the peninsula towards Caernarfon, gradually losing the height we'd kept over the sea. We spaced ourselves out for the approach to the airfield and landed in slightly gusty conditions, but with a big concrete runway to play with. We were greeted by the local Special Branch man who checked our details and chatted about the trip we'd just done and then went into the terminal for a late lunch.
I phoned Redhill and was told that the weather was bad with low cloud and high winds, so I decided it was best to set off early and see how far I could get. A shame, since the weather was actually perfectly OK when I got back, but it's better to be safe than sorry.
I left Caernarfon at 3:30 and climbed out to the south east, passing a few miles to the west of Mount Snowdon and then onwards over the beautiful mountain landscape. Given the rather limited choice of emergency landing options I climbed to 7,500ft again to give myself the ability to glide out to the flatter land near the coast if I'd needed to. That had the advantage of getting me back up into smooth air too, and I enjoyed another memorable flight right down over north Wales on a direct track to Shobdon.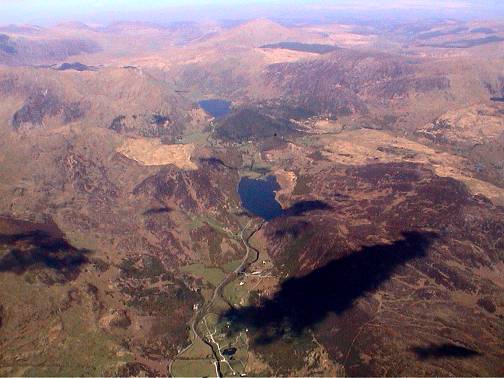 The mountains dropped behind me and the pretty rolling countryside of Herefordshire unfolded ahead as I carried on southwards. I saw a glider and a couple of flexwings going north, probably on their way home from Popham, but apart from that I seemed to have the sky to myself.
There were a few people on the air talking to Gloucester as I passed to the west of the city, and a couple more at Kemble as I talked to them for another overhead pass in the late afternoon sunshine. I was entering home territory as I returned to the more crowded southern airspace. A few minutes with RAF Lyneham had me through their MATZ and on past Swindon before I tuned into the familiar voices of a very busy Farnborough as I passed Newbury.
From there I felt I was nearly home - just the short run down and through the Odiham MATZ before I was handed on to Redhill. You always know you're home when you dial up 119.60 on the radio! The weather was no problem; a bit cloudier than it had been further north, but none of the promised low cloud or rain and so it was a straightforward Junction join for an approach to runway 01.
I touched down just after 6pm at a largely deserted airfield and taxied back to the southeast corner at the end of easily my most memorable flying experience yet. Two fantastic sea crossings, a superb flight over the mountains, a great weekend in Ireland, and lots of good people to meet. We also raised over £2,000 for the Temple Street Children's Hospital in Dublin by raffling off our flying teddies and raised the profile of microlighting in Ireland, with some good TV coverage of the event.
The trip shows again that the Jabiru really can cover the ground and I'd certainly recommend the experience of going exploring a bit further afield. There are lots of great places out there, and it really doesn't take long to reach them.
The trip brought me up to 100 flying hours and was a tremendous way to round off my first year of microlight flying.
Alasdair Arthur
May 2002
---